Courier Management System
Product Description
Courier Management System helps logistics firms evaluate the best possible route to ensure timely delivery. The management of courier companies mentions that it is essential to understand the best route for 'last-mile delivery'.  So, that the deliverables reach the recipients on time.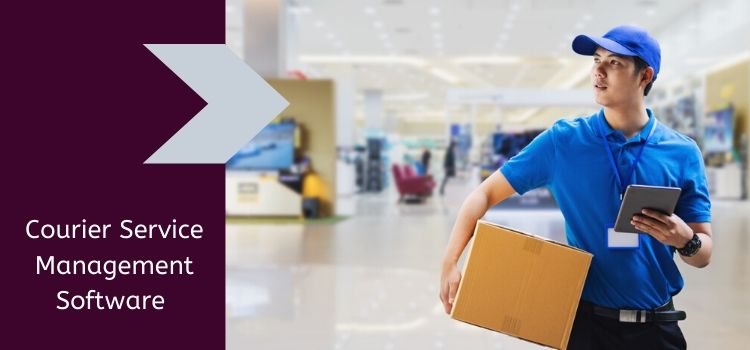 How Courier Management System Can Help with Logistics Management
Courier Management System is a web-based system that provides swift and efficient courier services to corporates and customers alike. Also, the system makes placing and tracking delivery orders for packages and products possible. Best courier software eases all activities including professional courier tracking with GPS to manage deliveries and mention the estimated delivery time of products. Further, courier management software services meet the end-to-end needs of transportation. It makes daily activities such as booking a courier, processing company data, providing driver details with the exact location of the consignment a reality. 
1. Go paperless 📄 
Going totally computerized digital means saying goodbye to stacks of paperwork. Albeit numerous logistics companies and drivers in the business are still resistant to tech, times are changing quickly and any individual who needs to work all the more efficiently should incorporate new technology in the manner they work.
The advantages? Your day by day activities don't need to be manual any longer; all things considered, to succeed, incorporating a delivery management software into your tasks is totally impeding into how you need to compete in the present online marketplace. Think greater visibility into daily delivery conveyance activities for your team. An e-mail confirmation of delivery e and having complete control of daily tasks.
2. Route optimization 🔍 
There will be some huge pressure of delivering products on time. So the route needs to be optimized so that the courier can be delivered in the shortest time. Most of the time, inefficient routes are the cause of badly managed time hence avoidable delays for the customer. With accurate algorithms that ensure that in the least amount of time drivers can complete most deliveries, you will be able to create a truly advanced end-to-end delivery platform, reducing fulfillment costs whilst delivering a top-notch experience.
By measuring driver location proximity, availability, and delivery traffic conditions, you can optimize the routes and create an efficient and smart delivery route or your drivers. 
3. Real-time visibility ✅ 
Around ten years ago, having the option to track and follow products in real-time was a prospect for the future. Be nowadays with the aid of modern technology, consumers and businesses have phenomenal real-time into the status of their order. 
This makes an interpretation of into organizations adjusting to purchasers' needs, by conveying quick as well as by pleasing clients en route. So as to be fruitful in this focused industry, more organizations decide to construct a foundation that will help streamline activities. By having access to real-time information, companies will find it easier to prevent and fix inefficient processes on-the-go.
4. Customer communication ☎️ 
Always keeping the client updated with notification all through the delivery process guarantees an expert and palatable experience for the two gatherings. Also, notifications that are available on delivery.  Also,  transit of their order ensures that the customer is available at the place and time of delivery. This makes the delivery process to be smooth. 
5. Access to analytics 📊 
By having direct access to information recorded from the orders and drivers. Your organization will have an understanding of the delivery operational flow. By monitoring your information, not exclusively would you be able to screen your whole data easily, but also check the driver execution. So, you realize how to better manage them in the future. This is a significant feature as you can gather information on your customers and customize your services based on their requirements.